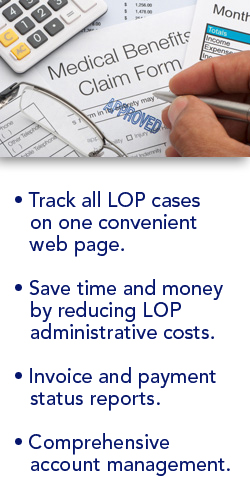 For decades, the legal and medical professions have been manually trading Letters of Protection (LOP). Letters of Protection, are also referred to as "Financial Guarantee", "Promissory Notes", or "Deferred Payment Agreements". Essentially, they are a letter of understanding issued by personal injury attorneys to medical service providers to render medical services to an injured person with a deferred payment date until the case is settled. The demand for a solution to automate the process of payment of LOP's has been long awaited for by the industry. Our automated LOP tracking system enables you to initiate, select, accept, track, invoice, and resolve LOP's via one site. This service has been designed in collaboration with leading industry experts from the medical, legal, and insurance industry for data management and information system fields.
A pioneer in bringing together legal and medical practitioners, Providentis offers unprecedented value to both professions. This system is intended to maximize efficiency and profitability for all parties. The Providentis website is Secured, Password protected, and fully complies with HIPAA regulations.
Providentis is a privately owned and operated data services firm. Our mission is to provide a secured web enabled system for attorneys and physicians to exchange Letters of Protection necessary for treatment of personal injury individuals. Our membership based solution will serve physicians and attorneys nationwide. We came into existence pursuant to requests by medical and legal professionals who expressed the need for automating the exchange of LOPs.
Our web based solution has been designed and developed by medical, legal, technology, security, financial, marketing and business professionals. Founding team members include 26 leading industry experts in their respective field. The organizations our founding team members have served during their careers range from public sector as well as Fortune1000 to Fortune5 companies. These companies include -but not limited to-, Children's Hospital (Orange County, CA), Baylor Healthcare System (Dallas), IBM, Palomar Pomerado Health (San Diego), McKesson (Atlanta/Pennsylvania/Michigan/San Francisco), Computer Associates, PDX Pharmaceuticals, Merck, TransAmerica Life, USAA Insurance, Raytheon, District of Columbia Health and Human Services, DoD, Tenet Healthcare, NextGen Healthcare Information Systems of Pennsylvania, Presbyterian Healthcare Services of Albuquerque, Citigroup, Bechtel Corp., Siemens, Texas Instruments, Rockwell Collins, Prudential (NJ), Ramsell International, Bank of America, KPMG, Xerox/ACS, Cash America, HP/EDS, Brinks, Price Waterhouse, Citi, GE Healthcare, Capgemini, Lehman Brothers, JPMorgan Chase, and Kodak Health Imaging Systems.
Alma Maters represented through our founding team members include –but not limited to-, USC, UCLA, MIT, U Texas, UC Berkley, Texas A&M, U Arizona, U British Columbia, Auburn, U Oklahoma, Rutgers, Seaton Hall, Kent State, Cal State, U of Philippines, Texas Wesleyan, Syracuse U, Indian Institute of Technology, Golden State U, U of Baghdad, N. TX State U, Florida State U, UT Dallas, Institute of Chartered Accountants in England, Tulsa School of Law, Southern Methodist U, Pace U, City U of New York, U of Cape Town, and Florida Institute of Technology.